An Historic Landmark in the Heart of Taos
The Inn on La Loma Plaza is a beautifully restored hacienda in the heart of Taos with expansive grounds, towering trees, and commanding mountain views. Our boutique inn offers intimate and luxurious accommodations, featuring Southwest ambiance, casual elegance, and exceptional hospitality.
Sequestered behind high adobe walls atop a tree-shaded hill, the Inn overlooks Taos, the Sangre de Cristo Range, and Taos Mountain. We are located in the La Loma Historic district, walking distance to the adjacent Taos Plaza Historic district, and just four miles from
Taos Pueblo
, nineteen miles from
Taos Ski Valley
, and one hour and twenty minutes from
Santa Fe
.
La Loma Plaza, originally called La Plazuela de San Antonio, was established by 14 Spanish families as one of the first fortified plazas recognized by Spain in the New World. Most of the first floor of the Inn was originally built in 1800 serving as the southwest corner of the Plazuela. The hacienda, an outstanding example of Pueblo Revival architecture (Santa Fe style), built with thick adobe walls, hand-carved corbels, vigas, and latillas, is listed on the State of New Mexico and National Register of Historic Places.
Our thoughtfully restored Inn, with its balconies, covered and beamed porches, combines modern
amenities
with Historic Taos charm and pueblo-style architecture. Our spacious guest areas are warm and inviting, featuring thick adobe walls, high ceilings, hardwood and tile floors, fountains, lush foliage, and quiet corners, complemented by antiques and local art.
Each
guest room
has its own distinctive ambiance inspired by the vibrant history of the Southwest, appointed with kiva fireplaces and sitting areas, hand-carved woodwork, artisan furniture, and artwork by noted Taoseños. Accommodations include ensuite bathroom,
premium amenities
, mountain views, and most with private patios and decks. Savor a full
gourmet breakfast
each morning, as well as afternoon snacks, beverages, coffee, and cookies.
We invite you to experience a taste of the diverse history, culture, and art of Taos, reflective of a thousand years of Pueblo Indian culture, 400 years of Spanish colonial settlement, and over 100 years as an art colony.
Inn on La Loma Amenities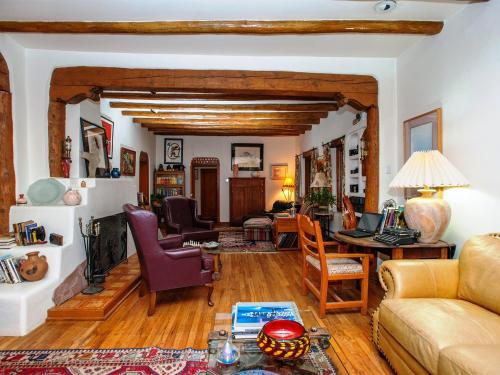 Guests enjoy amenities, including a fitness center, complimentary WiFi, off-street parking inside our walled estate, business and concierge services, and
much more (click here)
.
Activities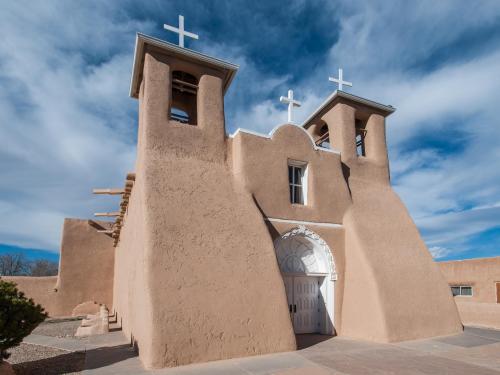 Our convenient location provides the perfect base for all your
northern New Mexico activities
– shopping, gallery hopping, hiking, biking, fishing, hot springs relaxing, whitewater rafting, rock climbing, alpine skiing, snow-boarding and cross-country skiing, and the Rio Grande Gorge and Carson National Forest are all located within a short drive from the Inn's front door.
We invite you to stop by our front desk for friendly concierge recommendations and insights of the region.