Full Gourmet Breakfast and Buffet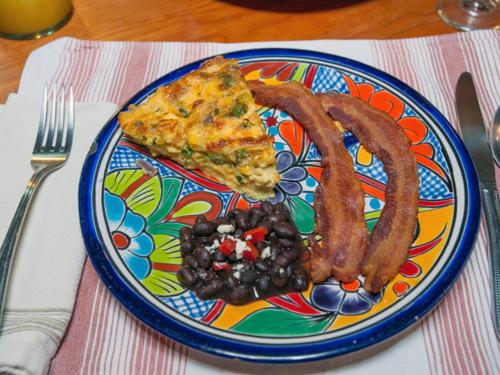 Available in the Sunroom or on the Patio
Start your day with a healthy full breakfast served from 7:30am to 9:00am daily in the Sunroom or on the Patio. You can partake from the buffet as well as enjoy our daily Gourmet Special and breakfast meat of the day!

Coffee is available starting at 7:00am.
Daily Specials
The daily special is served with a side dish and one of the following meats is optional: turkey or pork; patty sausage, bacon, ham, sausage links or ground bison in the green sauce.
Breakfast Burritos
Scrambled eggs wrapped in a flour tortilla, smothered with Jerry's famous green sauce with or without meat and topped with Monterey Jack and cheddar cheeses and refried pinto beans. There's nothing like it south - or north - of the border.
Eggs Florentine Quiche
Spinach, mushrooms, feta and Swiss cheeses combine to create this healthy and flavorful Mediterranean quiche served with poached pears.
Green Chile Strata
Layers of flour tortillas, green Chile, Monterey Jack and cheddar cheeses plus Jerry's famous green sauce, all topped with a mixture of eggs, sour cream and seasonings to create a Southwestern breakfast delight! Served with a side of three sisters stew ( corn, pinto beans and squash).
French Toast
Croissants soaked in cream laced with triple sec, cinnamon and orange blended with eggs and served with apricot or maple syrup, a poached pear on the side, accompanied by a fruit of the day frappe. A favorite with a European flair!
Eggs OLE'
Baked eggs with a savory southwestern flavor. Tomato, corn, black olives, cilantro, green chiles and Mexican cheese and breakfast potatoes. Breakfast in the old southwest. OLE'
Granola Pancakes
Granola and orange make these pancakes something special, served with orange sauce or maple syrup and cooked peaches on the side.
Basil Strata
Layers of bread soaked in wine and milk, cheese, tomatoes and pesto topped with eggs, cream and spices and a slice of a pear or peach tart. Gourmet at its best . Served with a fresh fruit smoothie.
We use only fresh, low sodium ingredients and low and non-fat dairy products.
Breakfast Buffet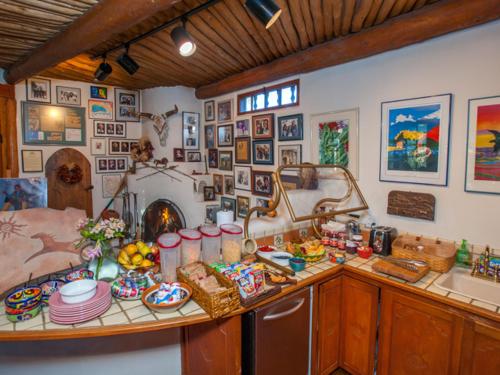 Jerry's House-Blend coffee with or without caffeine
Freshly squeezed orange juice and selection of other juices
Herbal teas, hot chocolate and hot cider
Medley of fresh seasonal fruits
Homemade granola, hot and cold cereals, and fruit yogurt
Assorted breads, muffins and bagels with cream cheese, natural fruit preserves or honey
Pastries, all freshly baked, including danishes, schneckens, croissants and cinnamon rolls
Daily breakfast entrée with side dish and meat dish