The Taos area receives 325 plus days of sunshine and Taos Ski Valley receives 300 plus inches of snow per year. The weather is beautiful, the sky is blue and the skiing is great in the winter, whitewater rafting is exciting in the spring and summer, and you can golf March through mid November. If you are not interested in skiing, whitewater rafting or golfing, there is still plenty of other things to see and do in
Taos, New Mexico
.
Spend the day gallery hopping, museum and pueblo touring, and of course there is plenty of shopping in unique local stores. Depending on the season, there is snowmobiling, mountain biking in the Carson National Forest, horseback riding at Taos Pueblo, rock climbing, snowshoeing, ballooning or hiking down into the Rio Grande Gorge, hot springs dipping. We are always happy to help you plan your days with activities, make reservations for a candle light dinner, schedule a massage and facial , show you on the map how to get to several local hot springs, have lift tickets available for you on arrival, and recommend things you should see and do while in Taos. We can also tell you about the best local Mexican food restaurants or some of the best places for year round hiking and cross county skiing or just start a fire for you in your fireplace for a relaxing afternoon in your room.
We guarantee you will have plenty to keep you busy while you enjoy the blue skies, sunshine, history and magic of Taos. Our goal is to make sure you have a great time and a most enjoyable stay at our cozy Inn.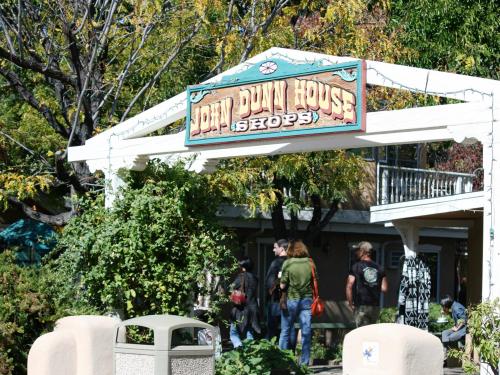 Activities Around Taos
In addition to world renowned skiing at Taos Ski Valley, you can mingle with people from an ancient, thriving culture at the Taos Pueblo; ride "the Taos box"on the Rio Grande on a spectacular guided raft trip; take a watercolor class; go two-stepping; and more!
Click here to learn more.
Art in Taos
Taos is an art mecca with over 100 galleries and museums, featuring works of art by such notables as R.C. Gorman, Amado Pena, and Georgia O'Keefe.
Click here to learn more.